Nutley Historical Society - COVID-19 Notice:
To all our loyal members, families, and friends: We are all facing the repercussions caused by the coronavirus. In compliance with the State regulations in keeping everyone safe from potentially being exposed to the virus, all events at the Nutley Museum have been cancelled. We appreciate your understanding and wish you all good health. Thank you.
---
Did you know Annie Oakley lived in Nutley NJ?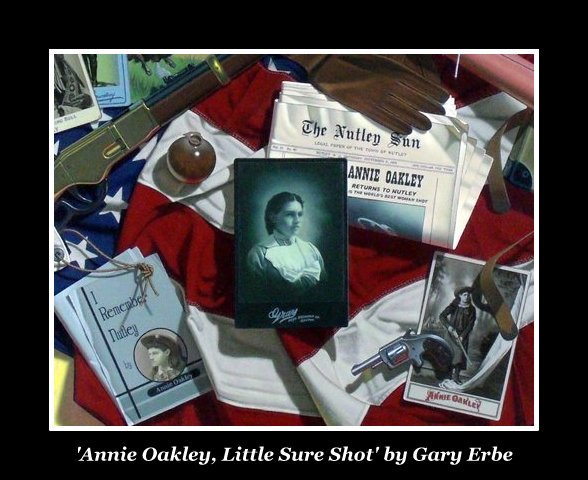 "Annie Oakley: Little Sure Shot" by Gary Erbe
---
NUTLEY MUSEUM ONLINE TOUR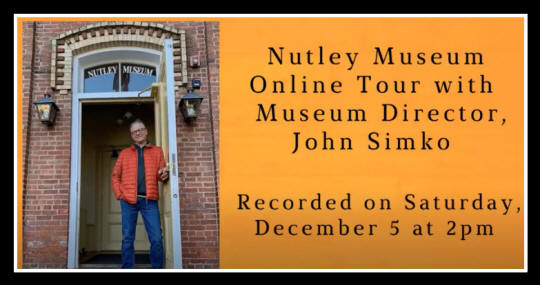 Nutley Museum Director John Simko's online tour of the Nutley Museum, recorded December 5, 2020. Simko spotlighted the Annie Oakley collection and other select items featured throughout the Nutley Museum. Projects by the Nutley Historical Society were also highlighted.
---
Nutley Museum Has Big Plans,
New Exhibits, for Our Reopening
By Barry Lenson
The Nutley Museum has been quiet over the summer. We didn't have our annual Ice Cream Social. John Simko, our Museum Director, didn't lead his annual "Walk in the Park" history tour of our parks on Memorial Day. We cancelled an evening of sports films that was part of the Gary and Zeny Erbe Film Festival. And we have just learned that we will not be permitted to rent out our first-floor meeting/party space until autumn at the earliest.
Like you, we have been through a tough time. But we've been making huge plans for wonderful new things for the people of Nutley to enjoy when we open our doors.
■ WE'RE PLANNING A BLOCKBUSTER EXHIBITION TO HONOR NUTLEY'S FIRST RESPONDERS AND VETERANS
The Nutley Museum owns a large collection of photographs and memorabilia that are related to Nutley's long history of public servants and veterans from years past – firefighters, policemen and women, Red Cross volunteers, and more. And we're planning to put our collection on display at a special event and exhibition.
Stay tuned after we open our doors again.
■ WE'RE OPENING A PERMANENT ANN TROY EXHIBITION
Ann Troy (1890-1983) is best known to Nutley people as the author of the "bible" on Nutley History, a book called Nutley: Yesterday and Today. She was also principal of the Park Street School from 1919 until 1934 and later, principal of Washington School until 1952. And back in 1945, she was one of the founders of the Historical Society and Museum.
Museum Director John Simko (and his family too) have been working hard to create an area in the Museum where a collection of Ann Troy's possessions will be on permanent display. And there will be a big surprise. John Tiene, a longtime friend of the Museum, has given us the desk where Ann Troy wrote her book. It will be the centerpiece of our new permanent display.
■ WE'RE POLISHING UP OUR DISPLAY OF WORKS BY NUTLEY ARTISTS
Thanks to a grant from Essex County, we have been able to restore a painting we own by Frank Fowler, who founded the Enclosure Artists' Colony nearly 150 years ago. We plan to display it when we reopen, alongside works by Nutley's other great artists. We're also hoping to invite today's Nutley artists to lend their work to the show.
■ WE'RE UNVEILING THE VINCENT METHODIST CHURCH GATES
Silas Mountsier, the Nutley hero who is best known to Nutleyites as the cultivator and developer of the gorgeous Mountsier Garden, has underwritten the cost of restoring and reinstalling the impressive wrought iron gates that once stood at the entrance of Vincent Methodist Church. They are now being professionally restored. We plan to reinstall them as a grand entrance to the Nutley Museum, or nearby on museum property.
Stay tuned. It will be a grand event and a major addition to our beautiful town.
■ AND THAT'S NOT EVERYTHING …
We're unveiling lots of artifacts from our history … class trips will come again and fill the museum with fun and laughter … we will host our annual Pumpkin Festival, Holiday Party and other events … we'll hold lectures and special exhibitions … and we can hardly wait to see you at the Nutley Museum!
■ JOHN DEMMER HAS GIVEN US HIS NUTLEY SUN ARCHIVES
John, our Town Historian, has donated an extensive collection of old issues of The Nutley Sun. While the Nutley Public Library has its own digitized collection too, we are thrilled to add this resource to our research tools.
■ Won't You Join the Nutley Historical Society and Museum? We invite you to become a member of the Nutley Historical Society. It's easy and fast to join.
---
Nutley History, from General George Washington's Retreat Route
to Annie Oakley to the Morris Canal on Our Western Border
to Quarry Town and Speed Racing Velodrome
to our Golfer's Heaven and Old Military Hall
to Presidential Visits and Professional Wresting
to Cold Ice Cream to our Cold War Anti-Aircraft Radar Camp
to the Arrival of Route 21 ...
---
Marking Time During War: Sun Editorial Paints 1918 Year of Shortages, Disease
It was estimated that there were 300 [influenza] cases here [in Nutley in 1918].
---
Nutley Velodrome
In 1933, the world came to the Nutley Velodrome as a premier venue for the grand sport of international bicycle racing. The greatest bike riders from around the world traveled to Nutley during the 1930s to compete at the wooden "saucer" built by businessman and cycling enthusiast Joseph Miele. Read the rest of the Velodrome story.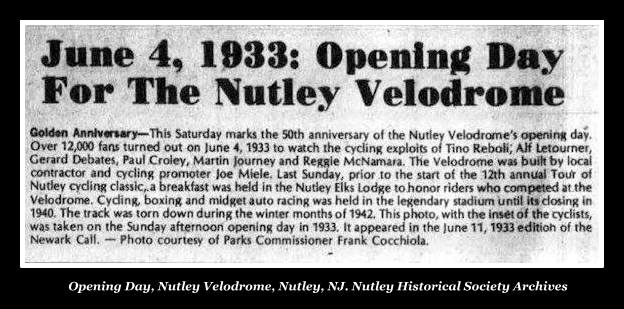 ---
The Lady, or The Tiger
Nutley Author Frank R. Stockton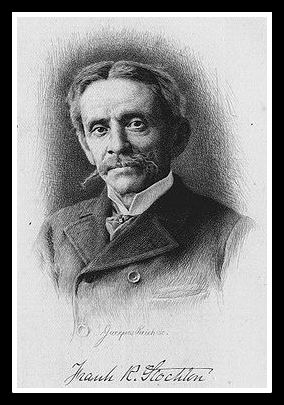 Nutley Writer: Frank R. Stockton wrote The Lady, or The Tiger, and Rudder Grange; Nutley Library 'Lady or Tiger' Room Is Opened for Youngsters, Named for Frank Stockton, Noted Local Author
Read more about
---
Former One-Room School House
Renovated by Town Volunteers into Township Museum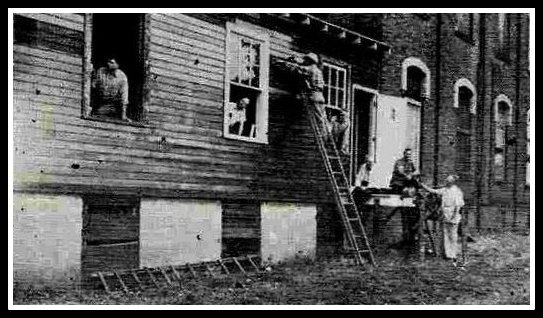 ---

---
Virtual Doorjam Christmas Concert
As some of you know, the house band of the Franklin Reformed Church in Nutley, "doorjam," would normally have presented our annual Christmas concert on 12/20/20 at 4 p.m. The group also performs at the annual Nutley Historical Society Christmas party. Nothing is normal this year, so instead, we're offering a virtual performance.
We (Vicky Chalk, Jill Fenske, Jainie Gambaro, Joe & Linda Ribaudo, Martin Williams) all recorded something to add to your holiday fun, including a nod to our famous soup supper. The virtual performance will be available until Jan. 6, 2021, so catch it when you can. Simply visit www.frcnutley.org and click on "Concert."
Merry Christmas to all from doorjam!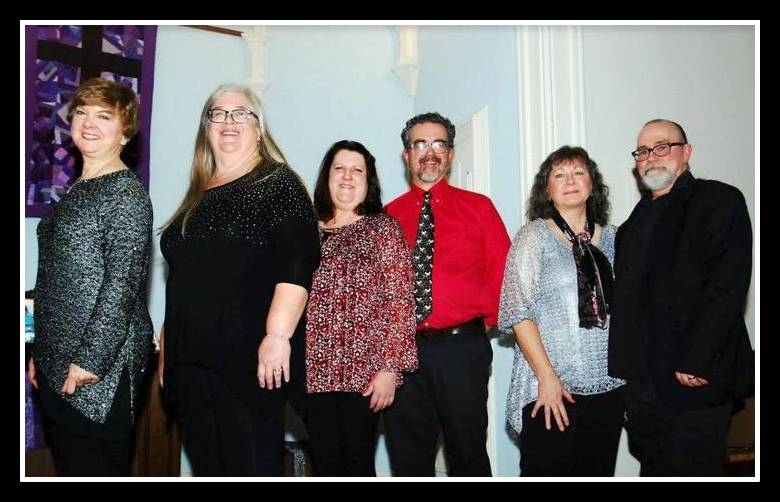 Founded 1945
Our 75th Year
65 Church Street, Nutley N.J. 07110
973-667-1528
Copyright & Reprint Information
Contact Room Rental, via phone, not email, Call 973-667-1528
Official Web Site
Nutley Historical Society
Follow/Like Us on Facebook
Check-in When You Visit
---
Got Historic Nutley Stuff?
Our trustees and docents continue to itemize, catalog and preserve as much Nutley history as we can. If you have an item tied to our town's history, please consider donating it to the Nutley Museum. Give us a call 973-667-1528, or email us for more information.
---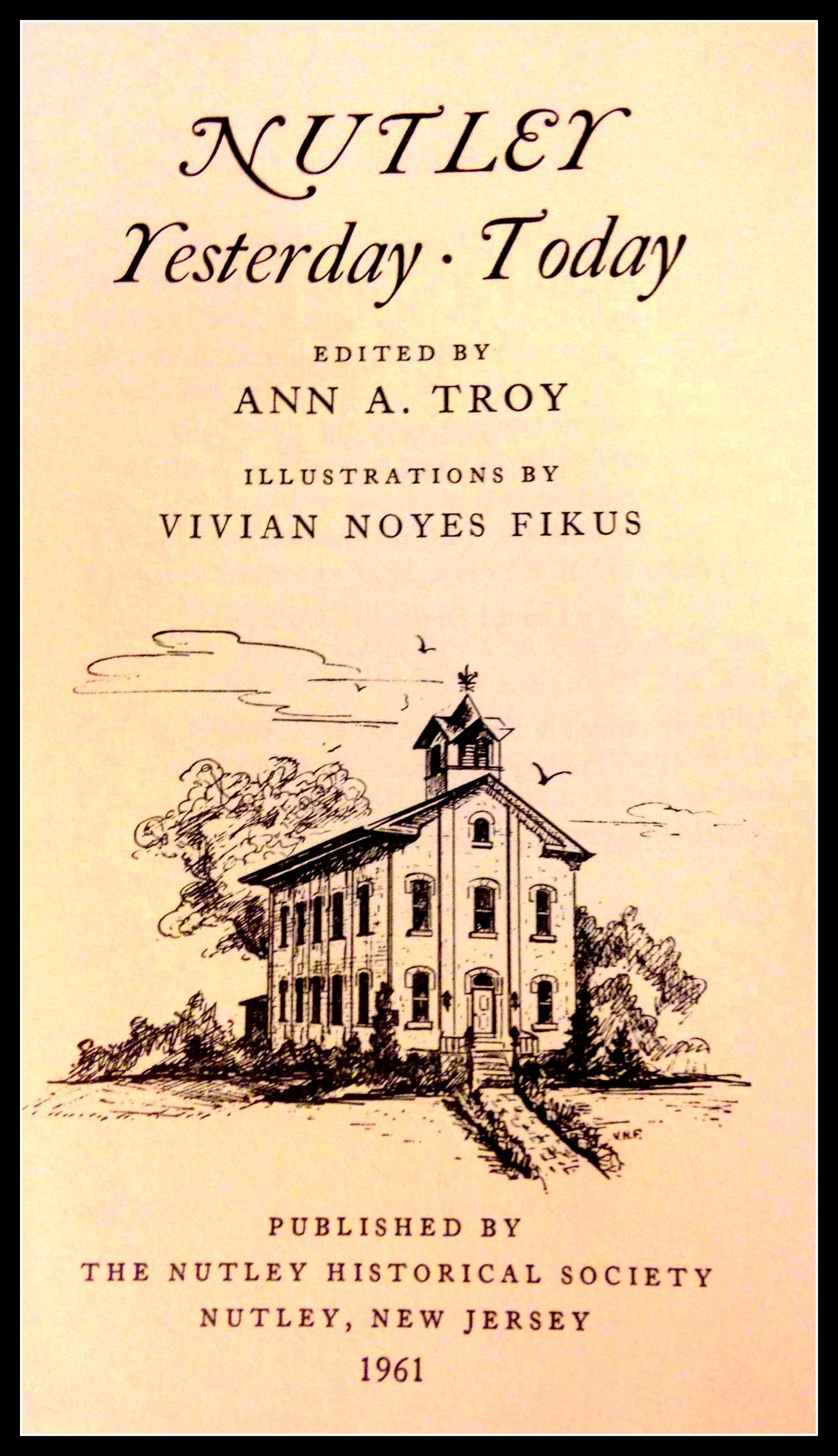 NUTLEY Yesterday - Today - Ann Troy & Vivian Noyes Fikus
Where all great study of Nutley history begins
The importance of history in general cannot be doubted. It sets before us striking instances of virtue, enterprise, courage, generosity, patriotism and, by a natural principle of emulation, encourages us to copy such noble examples. History displays the dealings of God with mankind. It often leads us to view with awe His darker judgments and again it awakens the liveliest emotions of gratitude for His kind and benignant dispensations.
In 1945 the founders of the Nutley Historical Society wrote into its constitution the statement that:
"It shall be the purpose . . . of this association to do all in its power to collect all the available historical material connected with . . . the history of Nutley and carefully to preserve the same. . . . This shall mean ultimately the writing of the history of the town. . . Down through the years, work on this project continued until the present volume has been prepared.
So now, since History never stops, we in the Nutley Historical Society in 1961—like those who wrote the first History of Nutley in 1907— pass on the torch to those coming generations who at some future time will feel the need to once again issue a . . .
"HISTORY OF NUTLEY"
Robert F. Heald
First President 1954 to 1961
March 5, 1961 The Nutley Historical Society
From the Foreword
Hardcover keepsake
copies
are available
at the Nutley Museum
---
Nutley Historic

a

l Society

Membership Benefits

As a member, you and your family are welcome to participate in any or all of our upcoming events. When you join or renew your membership, the Nutley Historical Society will be able to continue and expand our work to bring you interesting, informational and fun programs throughout the year. By making our history available and known to those who visit the museum, we continue to move forward by knowing about and appreciating our past. We can only accomplish this with your help.

Join Now

Now is a great time to join or renew your Nutley Historical Society membership.

Thanks to all our members who supported the Nutley Historical Society's events and activities.

If you are interested in volunteering to be on one of our committees or for any additional information, please call 973-667-1528.
---
Nutley Historical Society Celebrates 75th Anniversary
Thanks to all who joined us to raise a toast in celebration of the seventy-fifth anniversary of the founding of the Nutley Historical Society on March 5, 2020. Events included cake cutting and a birthday toast, an update on recent museum acquisitions and activities, and a special tour of museum highlights by the museum director.
---
Nutley Historical Society Cancels
2020 'Picturing Nutley' Photo Contest
---
Museum Hall Rentals & Tours Are Closed Until Further Notice
Museum tours
The Ann A. Troy Gallery-Nutley Museum is open four times a year, and tours are available on request.
For school groups and private museum tours, please contact Suzanne Hagert 973-667-4270
---
Rent the historic first floor of the Nutley Museum for your event
Call Kerry Flynn, caretaker
t
o Rent the Hall: Call 973-667-1528
PLEASE CALL AND LEAVE A MESSAGE BEFORE YOU EMAIL FOR RENTAL AVAILABILITY INFO - Thanks
Seating for up to 70 people. Handicap accessible
More information on the Nutley Museum, and meeting room rental with photos.
---
Contact Room Rental, via phone only, not email, Call 973-667-1528
---