Nutley Historical Society receives $1,000 grant
from Wells Fargo Foundation
Nutley, N.J., Oct. 25, 2016 – The Nutley Historical Society has been awarded a $1,000 grant by Wells Fargo Foundation to support the organization's mission to promote understanding of Nutley history among the people of Nutley.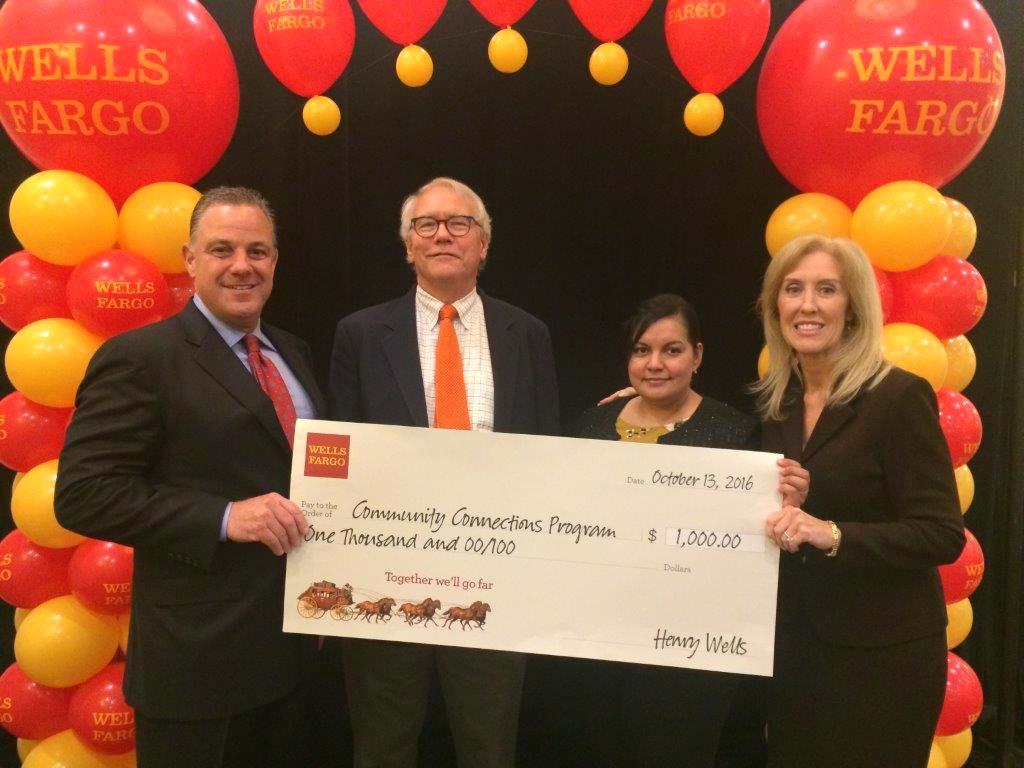 Nutley Museum Art Director Barry Lenson accepts $1,000 grant from Wells Fargo Community Connections Program. From left, Wells Fargo Northern N.J., Region President Fred Bertoldo; Lenson; Central Essex District Manager Mireya Contreras; and Metro North Jersey Area President Ivon Creagh.
The Nutley Historical Society was founded in 1945 when a group of concerned Nutley citizens decided to establish the Nutley Historical Society and Museum in the historic brick Church Street School which is located at 65 Church Street, Nutley.
The beautiful and historic museum, built in 1875, is on the National Register of Historic Places and is the envy of many other civic historical societies in New Jersey.
The museum holds a series of open houses, lectures, tours and other events that are attended by more than 500 Nutleyites every year, as well as by visitors from other towns and states. Other programs include college scholarships given to Nutley students, special exhibitions in the Nutley library and elsewhere, and a vibrant program of other events.
"We truly appreciate Wells Fargo's support," said Domenick Tibaldo, President of the Nutley Historical Society. "We will use this grant to produce more high-quality experiences for the people of our town, and to increase outreach and public awareness of our museum and its mission."
The grant was awarded as part of Wells Fargo's Community Connections program, which provides local branch managers the opportunity to make a $1,000 charitable contribution on behalf of Wells Fargo to a nonprofit of their choice.
Wells Fargo Northern New Jersey branches distributed a total of $148,000 in grants to support nonprofit groups, an increase from last year's $139,000 contributions.
"We host this annual breakfast to celebrate, recognize and say thank you to community heroes such as The Nutley Historical Society for all of their invaluable contributions and dedicated service to empower northern New Jersey neighborhoods over the past year," said Fred Bertoldo, Wells Fargo's Northern New Jersey region president. "Each nonprofit grant recipient was identified by our local branches. They see which nonprofits are out in the community making a difference in the areas where many team members and customers are proud to live and work."
The annual Community Connections program offers Wells Fargo branch managers the opportunity to provide additional grants to local nonprofits of their choice in New Jersey, Connecticut, Delaware, New York and Pennsylvania.