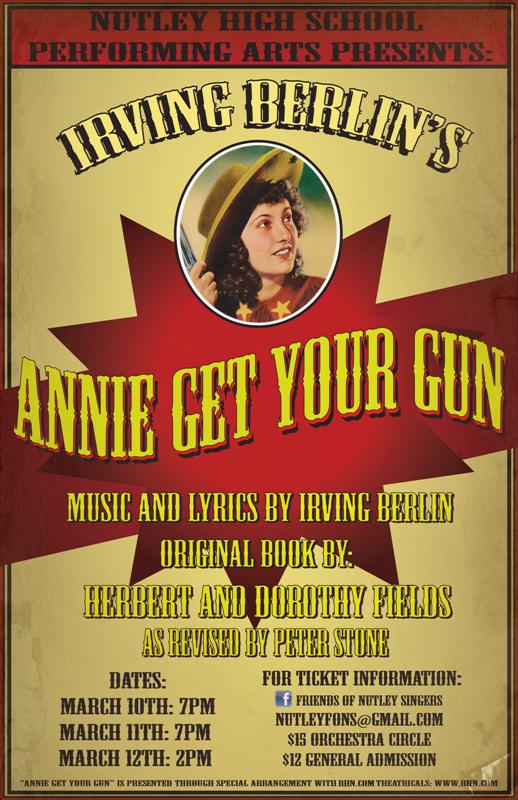 Nutley Historical Society displays rare Annie Oakley memorabilia at school musical
March 2017
Nutley High School, Nutley, NJ
Nutley, NJ—Nutley High School Performing Arts presents three performances of Annie Get Your Gun at Nutley High School in March.
Annie Get Your Gun is based on the life of Annie Oakley—a sharpshooter who starred in Buffalo Bill's Wild West Show—and her romance with fellow sharpshooter Frank Butler. When Annie's skills prove better than Bill's, business heats up while romance cools, until the final shoot-out ensures a finale that hits the mark.
"The music of Irving Berlin—featuring hits like There's No Business Like Show Business and Anything You Can Do—makes Annie Get Your Gun truly memorable," says Musical Director Nicole Monte. Adds Director Austin Vallies, "We're so excited to work with our multi-talented student cast, crew, and musicians in this fun nod to a dynamic figure in Nutley history."
In 1892, Annie returned home an international superstar following a five-year tour of Europe, where she performed for many heads of state. Mr. and Mrs. Frank Butler had a home built on Grant Avenue and lived in Nutley for 12 years. They were by all accounts terrific neighbors who were very active in Nutley social life. In 1894 Annie took part in the Nutley Amateur Circus, a local fundraiser to start a Red Cross chapter in town.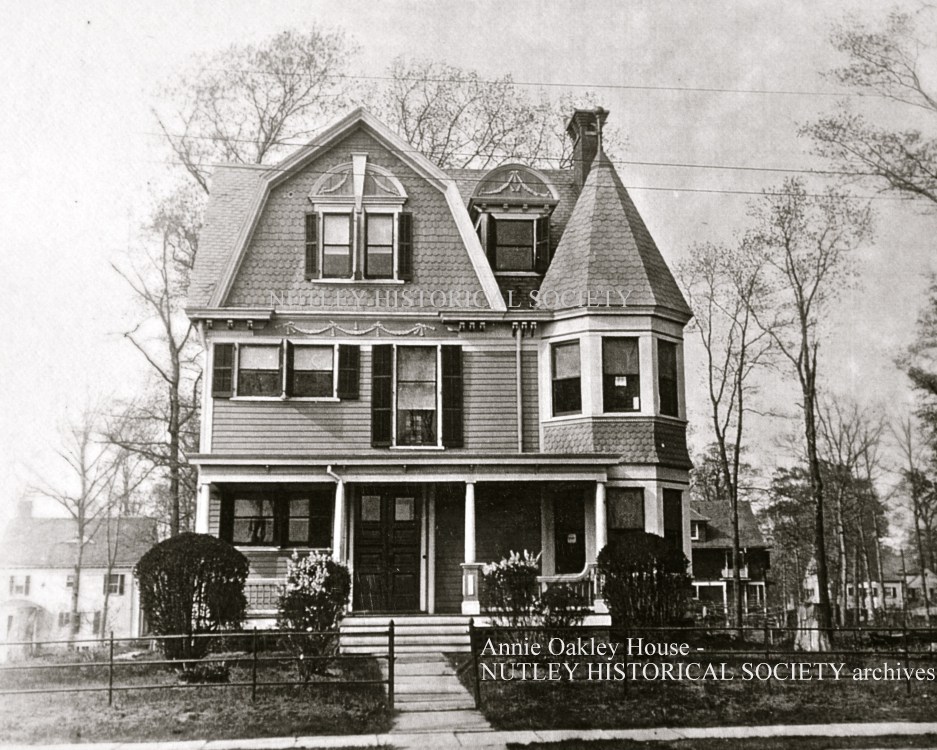 Annie Oakley's Home on Grant Avenue
In 2016, then Nutley High School senior David Dizdari won a student art competition to design a mural based on the Amateur Circus. Later this year, that mural will be installed in the John H. Walker Middle School and join five others painted by Nutley students in the 1930s—more than 80 years ago!
In the meantime, David's mural will be on display in the Nutley High School lobby during performances of Annie Get Your Gun. Nutley Museum Director John Simko calls it "a terrific painting from many great student submissions that captures a special moment in Nutley's rich history," noting that this is a "fantastic opportunity to see it up close."
Visitors to the Nutley Historical Society and Museum can also see many of the Amateur Circus studies by the talented middle- and high-school students who took part in the art competition.
The Nutley Historical Society and Museum has a wonderful collection of Annie Oakley memorabilia—autographed photos, correspondence from European royalty, period posters, postcards sent to friends in Nutley, pistols owned by Annie and by Buffalo Bill, a coin nicked by Annie at the 1894 circus, and much more.
Music and lyrics for Annie Get Your Gun are by Irving Berlin and book is by siblings Dorothy Fields and Herbert Fields. This NHS Performing Arts production features a cast of Nutley High School students as well as a live orchestra of students and professionals.
The production staff includes Director Austin Vallies, Musical Directors Austin Vallies and Nicole Monte, Assistant Directors Eric Wdowiak and Michael Gurrieri, Choreographer Kristen Driscoll, Set and Lighting Designer James Gardner, and Sound Designer Henry Meola.
Founded 1945
65 Church Street, Nutley N.J. 07110
973-667-1528
Copyright & Reprint Information
Contact Room Rental, via phone, not email, Call 973-667-1528
Official Web Site
Nutley Historical Society
Follow/Like Us on Facebook
Check-in When You Visit
---
Web site development & maintenance
provided at no cost to Nutley Historical Society, sponsored by:
Links are subject to change
---
Read More About
---
Rent the historic first floor of the Nutley Museum for your event
Call Kerry Flynn, caretaker, to rent the hall, 973-667-1528
Seating for up to 70 people. Handicap accessible
More information on the Nutley Museum, and meeting room rental with photos.
---
Museum tours available upon request
The Ann A. Troy Gallery-Nutley Museum is open four times a year, and tours are available on request.
For school groups and private museum tours, please contact Suzanne Hagert 973-667-4270
---
Email Contact - Nutley Historical Society
The Nutley Historical Society is a not-for-profit organization dedicated to serve the educational, cultural and historical needs of our community.
65 Church Street, Nutley N.J. 07110
973-667-1528
© Nutley Historical Society