One hundred years ago, on August 13, 1860, in a pioneer log cabin in Woodland, Darke County, Ohio, "Annie Oakley" was born. Her parents, Susan and Jacob Moses, called her Phoebe Ann. Later her four living older sisters, Mary Jane, Lyda, Elizabeth and Sarah Ellen called her Annie, the name that she used during the 66 years of her eventful life, many of which were spent in Nutley. (1)
She, herself, later changed the family name to Mozee.
When only two years old, a brother John arrived and in two more years a favorite sister, Hulda, brought the number of children in the crowded cabin to seven.
During her childhood days Annie became used to the rugged pioneer life of her Quaker parents. In the woods she learned the habits of rabbits, quail and grouse.
Before she was fifteen, she hunted with the family rifle. Pelts of these animals and dressed game were sent to hotels in 8o-mile distant Cincinnati.
To this city, the "Queen City of the West," Annie Moses, now 16 years old, went to live with her married sister Lyda.
Here at the hotel where her birds had been sold, she was introduced as the hunter from Darke County.
It was here that she heard of the famous marksman, Frank Butler, who was shooting at a local theatre. Soon a match was arranged … a shooting match ... in which Annie captured the prize.
She also captured a husband because within a year the 16-yearold country girl had become Mrs. Frank Butler.
For eight years the team of "Butler & Oakley" toured the Midwestern theatres with their shooting act. Annie Oakley (she now had taken the name. Oakley as her stage name) drew applause when she shot coins out of a man's hand and cards in the air, turning flips and cart wheels beside her gun table.
It was in 1884 that Annie and Frank joined their first circus and headed for the World's Fair at New Orleans.
The next year saw them with the Buffalo Bill Wild West Show and Annie featured as the "Lovely Lass of the Western Plains, Little Sure-shot, the one and only Annie Oakley."
During the season at Staten Island, Mark Twain wrote to Buffalo Bill Cody: "I have seen your Wild West Show two days in succession and have enjoyed it thoroughly. Down to its smallest details the show is genuine ... It is often said on the other side of the water that none of the exhibitions which we send to England are purely and distinctively American. If you will take the Wild West Show over there you can remove that reproach."
Following the next Winter's triumphant season at Madison Square Garden, plans were completed for the opening of the show in London at the American Industrial Exhibition.
In March 1887, the steamer, State of Nebraska, after 12 days at sea, sighted the shores of England and the Wild West moved to the Earl's Court Exhibition grounds.
Here Annie Oakley was presented to Edward, Prince of Wales, and took part in a request performance for Queen Victoria and her family.
A friendly match with the Grand Duke Michael of Russia was arranged, attended by "a dozen princes and princesses, dukes and duchesses." Annie won the match with a score of 47 to 36 and Prince Edward pinned a medal on her jacket.
Five years later, following successive tours in France, Spain, Italy, Germany and Scotland, Mr. and Mrs. Frank Butler sailed for home. While the shows wintered in Bridgeport, Conn., Annie and Frank lived in a New York hotel.
In 1892 they visited the circus quarters of Eaton Stone, on Kingsland Road, where during the winter, actors, newspaper men and show people were entertained by the first man in America to ride four horses, stepping from one to another as they dashed around the ring.
Yes, "Little Miss Sure Shot" really came to Nutley many years ago. Following successful seasons in show business, Mr. and Mrs. Butler were ready to settle down in a home of their own.
Arriving in Nutley at the Stitts Station of the Erie (now Nutley) they were met by the well-known station agent John L. Donaldson whose daughters still live in the family home at 291 Highfield Lane.
Mr. Donaldson, town information bureau and official greeter, welcomed the Butlers and arranged their meeting with J. Fisher Satterthwaite. Land at what is now 302 and 306 Grant Avenue, according to deeds to the properties, was purchased by the Butlers in 1892 from Mr. Satterthwaite.
While the house was being built at 304 Grant Avenue, "—a roomy frame house with a wide front porch, a railed balcony and a five-sided alcove surmounted by a conical tower," the Butlers lived at the home of John J. Leidy, on the northwest corner of Whitford Avenue and Nutley Avenue. This house is now the residence of Dr. and Mrs. Orlo Clark.
Annie Oakley continued to call Nutley her home town although she occupied the new house for only a few years.
Show business beckoned and the house was rented and eventually sold in 1904 to Joseph Stirratt and later to the Hayes and Walker families.
The house, said to have been built "without thought to closets because for years Mrs. Butler had traveled in trunks'' was demolished about August 16, 1937.
During these years Annie Oakley took an active part in the social life of the ever-growing area of Nutley. The local newspaper of 1894, The Press, serving Belleville and Nutley, gives a vivid account of the Nutley Circus produced by Henry C. Bunner, editor of Puck with Annie Oakley described as the "queen of woman rifle shots," giving a wonderful exhibition of her skill as a marksman.
This circus, produced for the benefit of the First Red Cross Fund, was held in the Eaton Stone training ring on Kingsland Road. Taking an important part also was young Allan Stirratt, who rode his pony accompanied by the famous Robinson band. (Mr. Stirratt now lives at 314 Passaic Avenue.) (2)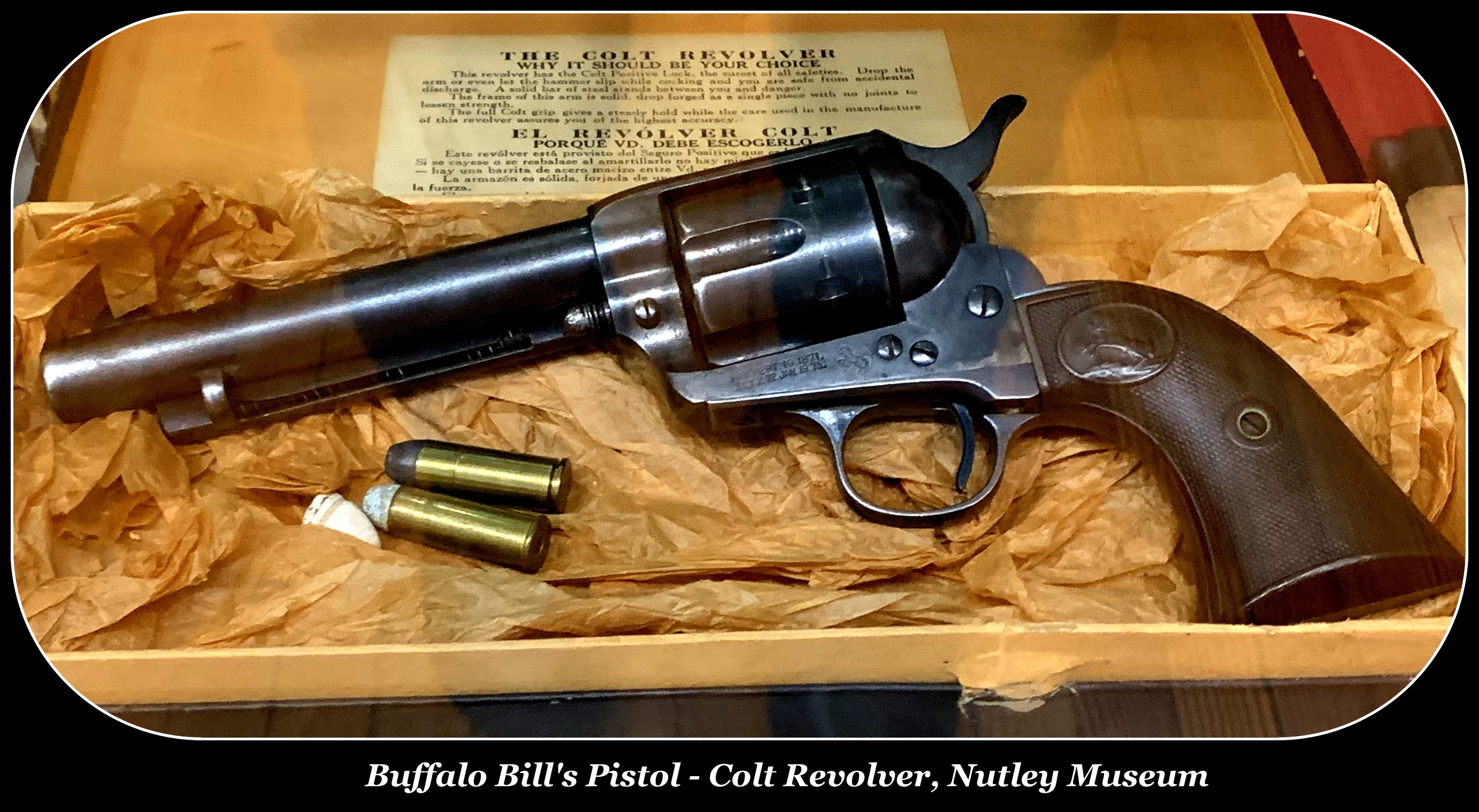 Other mementos of Annie Oakley are in the possession of Miss Anna Donaldson and Miss May Donaldson, of Highfield Lane. These are Buffalo Bill's horse pistol, a patent Colt six-shooter and a leather pony collar trimmed with silver.
Mrs. William Longfelder also keeps a revolver given to her by Annie Oakley. Fern Campbell, Annie's niece, author of the book "Little Missy," has visited in recent years at Mrs. Longfelder's home.
Many Nutley people kept in touch with Annie Oakley as she and Frank traveled across the country with the Wild West show.
In 1901 news reached here and all over the world of a serious train accident near Wheeling, W.Va. The second section of the circus train was in a head-on collision with a freight train.
Over 100 horses were killed, and Annie, thrown by the crash, suffered an injury to her spine. The shock caused her hair to turn white in 17 hours.
Many operations in St. Michael's Hospital, Newark, helped her regain her health although for some time she wore a brace on her leg.
With regained health, Annie again took her gun in hand and traveled with the western melodrama "The Western Girl" and other shows.
During the interval of 1901 and 1915 the house in Nutley was sold to Joseph Stirratt and a new cottage in Cambridge, Md., was purchased. Here the Butlers bought a black and white puppy and named him Dave.
Dave's autobiography was published by Frank Butler, giving many stories of his contented life with the famous "Little Missy." (A copy of this booklet with many photographs and letters from Annie Oakley were given recently to the Nutley Museum by Miss Katherine Moore, a life-long friend of Mr. and Mrs. Butler.)
The war days of 1917 brought Annie and Frank from their exhibition contracts at the Carolina Hotel in Pinehurst, N.C.; from their daily visits with guests John Philip Sousa, John Bassett Moore, Walter Hines Page, John D. Rockefeller, Booth Tarkington and Edgar A. Guest.
Tours were arranged by the United States government in which Annie gave rifle demonstrations for troops in American training camps.
Dave, their Irish Setter, sat up with an apple on his head, like the son of William Tell and Annie punctured the apple. In one Summer, Dave earned thousands of dollars for Red Cross funds.
Annie Oakley's last public appearance, in 1922, was made at the Mineola, L.I., Race Track where Fred Stone staged a benefit rodeo show for the benefit of wounded war veterans. Her last act, consisting of riding, roping and the usual spectacular target shooting, was watched by an audience of 4,000 people,
Leaving Stone's home on Long Island, Annie and Frank headed for a warm restful winter in Florida. A boat trip brought them, with their two dogs, Dave and Lad, to Jacksonville, where friends were meeting them in a car to drive them to Leesburg, Lake County.
Here again a fateful accident turned the car over on a soft shoulder in the road and Annie was again hurt badly. A fractured hip and a broken ankle kept her an invalid for many months.
Frank, too, was injured internally. Three years they stayed at Leesburg and in April 1926, took a train for Darke County, Ohio.
Months passed, with Annie bedridden in Greenville, Ohio, with a nurse giving her needed care. Dr. Husted and Pastor Wessel heard her speak of her childhood days, "praying for days of simplicity which far surpassed being bowed to and complimented by crowned heads of all the world."
Frank Butler was in Detroit, with Annie Oakley's niece, Fern Campbell, when word came from Greenville on the third day of November 1926, that Annie Oakley had died in her sleep.
Life seemed very empty to the companion of "Little Missy" and within 20 days he too had left this world. Both were buried in the cemetery at Brock, near Greenville, Ohio.
The late Will Rogers, in writing a tribute to Annie Oakley in 1927 said: "Annie Oakley, one of the finest and truest of American women was not only the greatest rifle shot for a woman that ever lived but I doubt if her character could be matched outside of some saint.
"She was a marvelous woman, kind hearted, most thoughtful and a wonderful Christian woman. Whenever I think of Annie Oakley I stop and say to myself, 'It's what you are and not what you are in. that makes you.' "
---
1) In writing the Annie Oakley story, I have attempted to answer many of the questions asked at the Nutley Museum by children and adults as they have viewed the Annie Oakley exhibit.
The article is really a digest of the three books written about the lives of Mr. and Mrs. Frank Ruder and of the many conversations carried on with Nutley folk who remember having seen or heard of Annie Oakley when she lived in Nutley.
The books are "Annie Oakley" by Courtney Ryley Cooper, "Missie" by Annie Fern Swartwout and "Annie Oakley of the Wild West" by Walter Havighurst.
For the Nutley memories my thanks are due to Anna and May Donaldson, Mrs. William Longfelder, Mrs. Bertha Grey, Allan Stirratt and John Simpson.
I have not attempted to correct many items of "folklore" among which are the positive assertions that Annie Oakley lived on Oakley Terrace and that the little office building on the corner of Passaic and Grant Avenues is really her house. This building belongs to the Symonds family and is itself worthy of quite a story.
I hope the article will inspire the readers to gather the facts concerning Annie Oakley from sources other than the popular interpretation of Ethel Merman in "Annie Get Your Gun" or the present day television series starring Gail Davis.
2) A penny, nicked on the edge by Annie Oakley, when thrown through the air, was recently given by Mr. Stirratt to the Nutley Museum. The silk riding jacket worn by Mr. Stirratt when he rode his pony in the 1894 circus has also been donated to the Museum.
---
Source: NUTLEY Yesterday Today, edited by Ann Troy, 1961, Pages 196-291, Published by Nutley Historical Society.
Illustration, Vivian Fikus
Hard cover editions of NUTLEY Yesterday Today are available for purchase at the Nutley Museum.
---
The circus that inspired a town
Annie Oakley, Eaton Stone, Henry Bunner, and the Red Cross
On March 27, 1894, a unique fundraiser was held in Franklin Township [Nutley], New Jersey, to start a local Red Cross chapter. The Nutley Amateur Circus was staged in an old training pavilion on horseman Eaton Stone's 40-acre farm on the outskirts of town. Sharpshooter Annie Oakley, Stone, and H.C. Bunner were among the performers. Nutley Museum Director John Simko presents the history of the where, when, how, and who's who of this event. Nutley Senior Librarian Nick Van Dorn moderated the presentation.
---
Read more: