NUTLEY NJ -- A short documentary highlighting Sgt. Walter Bray's experience as a prisoner of war during the Korean war was shown at in the Nutley Museum, 65 Church Street Friday, May 27, 2022.
Walter Bray grew up in the 1930's. He was an orphan and lived in state homes until he turned 17 years old and enlisted in the U.S. Army.
While awaiting his separation papers at Schofield Barracks in Hawaii, he and his company were told to fall out with their barracks bag and were put on a ship to Korea.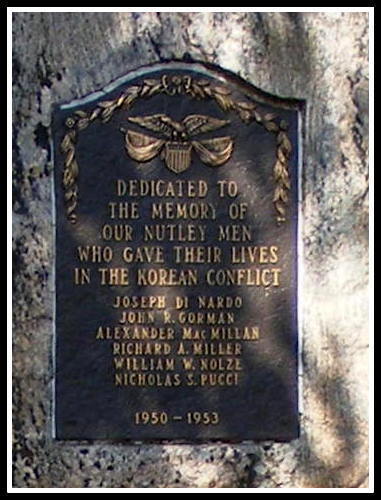 Sgt. Bray was part of a 250 men first company mortar team when they were attacked and captured. Only 27 men of the 250 survived. He had been shot in the leg and thanks to a Father Kopec who begged the doctors not to amputate, Bray recovered from the injury.
During his time as a POW, soldiers continued to die, and Bray would steal one of their dog tags and bury it. When the war was over, Bray dug out all the dog tags he had buried so that the families of the fallen knew what happened to their sons. Walter Bray was an originator of a local Old Guard chapter and initiated over 200 men before his death.
If you would be interested in seeing this documentary, please feel free to join us and while you are there, take a tour of our museum collection as well.
Walter E. Bray Jr. (May 6,1930 to April 29, 1998), was raised in Hackensack, and according to the 1940 Census, his mother was the head of the household. He was the youngest child and had three sisters and one brother. He lived in Lodi with his wife Lillian and two children. He is interred at George Washington Memorial Park in Paramus.
On behalf of the Nutley Historical Society board members, to all those who have served or continue to serve our country, THANK YOU.
---
Pfc. Nicholas S. Pucci was killed in action in Pusan, Korea, on Sept. 6, 1950. Pfc. Joseph DiNardo was declared missing in action since Dec. 2, 1950. Pfc. Reed A. Smith died while in service on Feb. 15, 1951. Pfc. John F. Van Der Linde was killed in action in Korea on March 15, 1951. Corp. Alex. MacMillan was killed in action in Korea on March 22, 1951. Pfc. William Nolze was "presumed dead" after being MIA since April 1951. Pfc. John R. Gorman was killed in action in Korea on May 18, 1951. Richard Arthur Miller was killed in service in July 1951. S/Sgt. John McConnell died while in service on Oct. 9, 1951. 1st Lt. Bernard Hafkin was killed in action in Korea, on Oct. 19, 1951. Robert G. Bliss died while in service on Feb. 4, 1953.