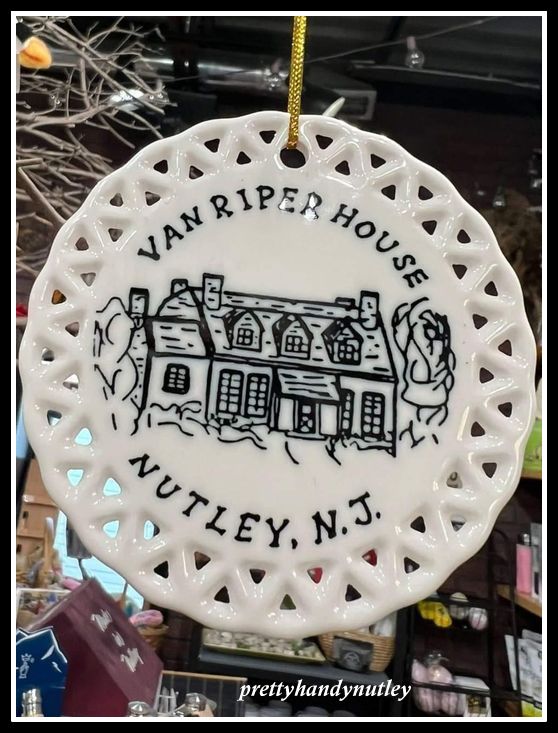 (NUTLEY NJ -- 1961) The Four Maples, on River Road, now the property of Federal Telephone and Radio Corporation, has long been known is the Van Riper house.

The Van Riper name became associated with the property when John Abraham Van Riper, who had married Leah Winne in 1776, went to live in the building. A tablet on the house bears the names of the couple under the date of May 1, 1788.

They were the grandparents of Dr. Abram Harvey Van Riper, well known in town until his death in 1936. Dr. Van Riper, born in 1854, was married in October of 1878, to Clarissa Van Schaack McMeehan, who died in 1928. After passing through other hands the house became the home of Mr. and Mrs. Jean Witbeck, who in turn sold it in 1943 to the International Telephone & Telegraph Company.

When the Witbeeks took over the house they made many improvements and also restored some of its features. The original kitchen with an open Dutch stove, was often used for the roasting of whole animals, according to information which Mr. Witbeek says he received from Dr. Van Riper. The Witbeeks, who now live in Pennsylvania, have a desk bearing the name "Letche Van Riper" scratched in the wood. Letche was a Dutch name for Leah.

The Four Maples is now occupied by Admiral Ellery Stone and family.

Source: NUTLEY Yesterday Today, edited by Ann Troy, 1961, Pages 181-182, Published by Nutley Historical Society.

Hard cover editions of NUTLEY Yesterday Today are available for purchase at the Nutley Museum.
---
Ellery W. Stone
Nutley resident retired Rear Admiral Ellery Wheeler Stone, chief commissioner of the Allied military government in Italy during and after World War II and former vice president and director of International Telephone and Telegraphy Corp., lived at separate times in the Van Riper House and Kingsland Manor.
Born in Oakland, Calif., on. Jan. 14, 1894, Stone attended the University of California, majoring in electrical and radio engineering.
Stone's Navy career began in 1914, and he advanced through grades in the Naval Reserve to rear admiral in 1944. As a captain in 1943, he served as chief of staff to Vice Admiral William Glassford. He was appointed by the Combined Chiefs of Staff as chief commissioner of the Allied Control Commission and chief civil affairs officer of the Allied military government in Italy, serving from 1944 to 1947.
After concluding his military service in 1947, he headed the Commercial Cable Company, a subsidiary ITT, and later oversaw its American Cable and Radio Corporation division until 1958.
Stone was an internationally renowned authority on communications engineering. At the time of his retirement in June 1969, after completing 45 years of service in the ITT system, Stone was a vice president of ITT, chairman of the board of American Cable & Radio, vice chairman of the board of ITT Europe (Brussels) and director of various American and European ITT subsidiaries. He was a director of ITT from 1948 to 1968.
According to the 1948 Nutley Directory, Stone lived at 491 River Road, also known as the Van Riper Homestead which was part of the ITT campus. According to the 1952 Nutley Directory, Stone lived at 3 Kingsland Road, also known as Kingsland Manor. Stone, 87, died at Mountainside Hospital, Glen Ridge, on September 18, 1981.
Sources: NUTLEY NOTABLES, VOLUME 2; 1948 Nutley Directory; 1952 Nutley Directory; Rear Admiral Stone Dead at 87; ITT Director, Military Governor, Nutley Sun, Sept. 18, 1981; Wikipedia contributors. "Ellery W. Stone." Wikipedia, The Free Encyclopedia. Wikipedia, The Free Encyclopedia, 5 Mar. 2017. Web. 23 Jul. 2018; Dorothy Greengrove.
---
Founded 1945
65 Church Street, Nutley N.J. 07110
973-667-1528
Copyright & Reprint Information
Contact Room Rental, via phone, not email, Call 973-667-1528
Official Web Site
Nutley Historical Society
Follow/Like Us on Facebook
Check-in When You Visit
---
Web site development & maintenance provided at no cost to Nutley Historical Society
Sponsored by:
Links are subject to change
---
NUTLEY Yesterday - Today - Ann Troy & Vivian Noyes Fikus
---