Frank R. Stockton was born in Philadelphia in 1834. He was one of nineteen children. His mother, who was his father's second wife, brought to the old New Jersey stock a mixture of French and Irish blood, which may partly account for the capricious charm of Stockton's fancies.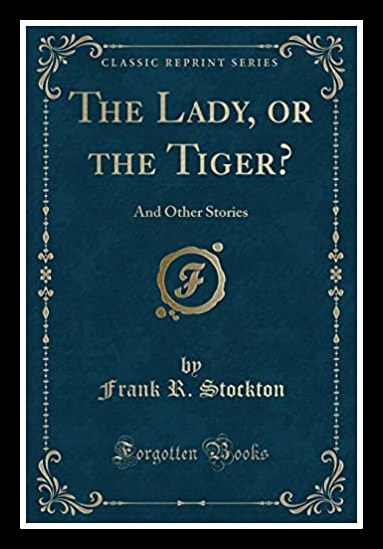 His father was a fierce controversialist, writing stinging pamphlets against the Jesuits, slavery, intemperance, and having a special abhorrence of novels.
When Frank emerged from a mischievous boyhood, he began to study engraving on wood. Even then he wrote fairy stories, and contributed to some of the New York papers.
In 1860, he married Miss Marion Tuttle of Virginia and soon after came to Nutley to live.
About this time he took a position on Hearth and Home, and in 1873 became associate editor of St. Nicholas.
"Rudder Grange" was at first a story which he wrote for Scribner's. Its cordial reception let him to enlarge it to the present delightful volume. This was the first book he wrote for "grown-ups," although the elders had long been reading his children's tales with delight.
Then followed years of giving out his unique stories, quaint, impossible fancies told in a straight-forward matter-of-fact manner which made any questioning of their probability seem quite preposterous. Eggleston said there was one chamber of Stockton's mind denied to other brains.
"The Lady and the Tiger," written, so it has been said, for an evening party at Mr. Boardman's in Nutley, has been translated into many languages, and one day in India a group of Hindus were heard gravely discussing the probable fate of the hero.
Stockton came to Nutley because of his friendship for Mr. William H. Boardman, who is the boarder in "Rudder Grange."
The Stocktons lived in the house on Walnut Street near Nutley Avenue, lately occupied by Mr. Fenton.
The following is a description by Mrs. Stockton, the delightful Euphemia of his tales. "The first place in which we set up our household goods was at Nutley, N.J. Our dwelling there was a pretty little cottage where we had a garden, some chickens and a cow. This was our home during his editorial days, and here 'Rudder Grange' was written."
Here also he wrote a number of his other stories. One called "Our Archery Club" was written from experiences in the Nutley Archery Club. Stockton's archery equipment cost something like $103.10. When he took this story to the publishers he asked to a penny what his outfit had cost him, no more, no less.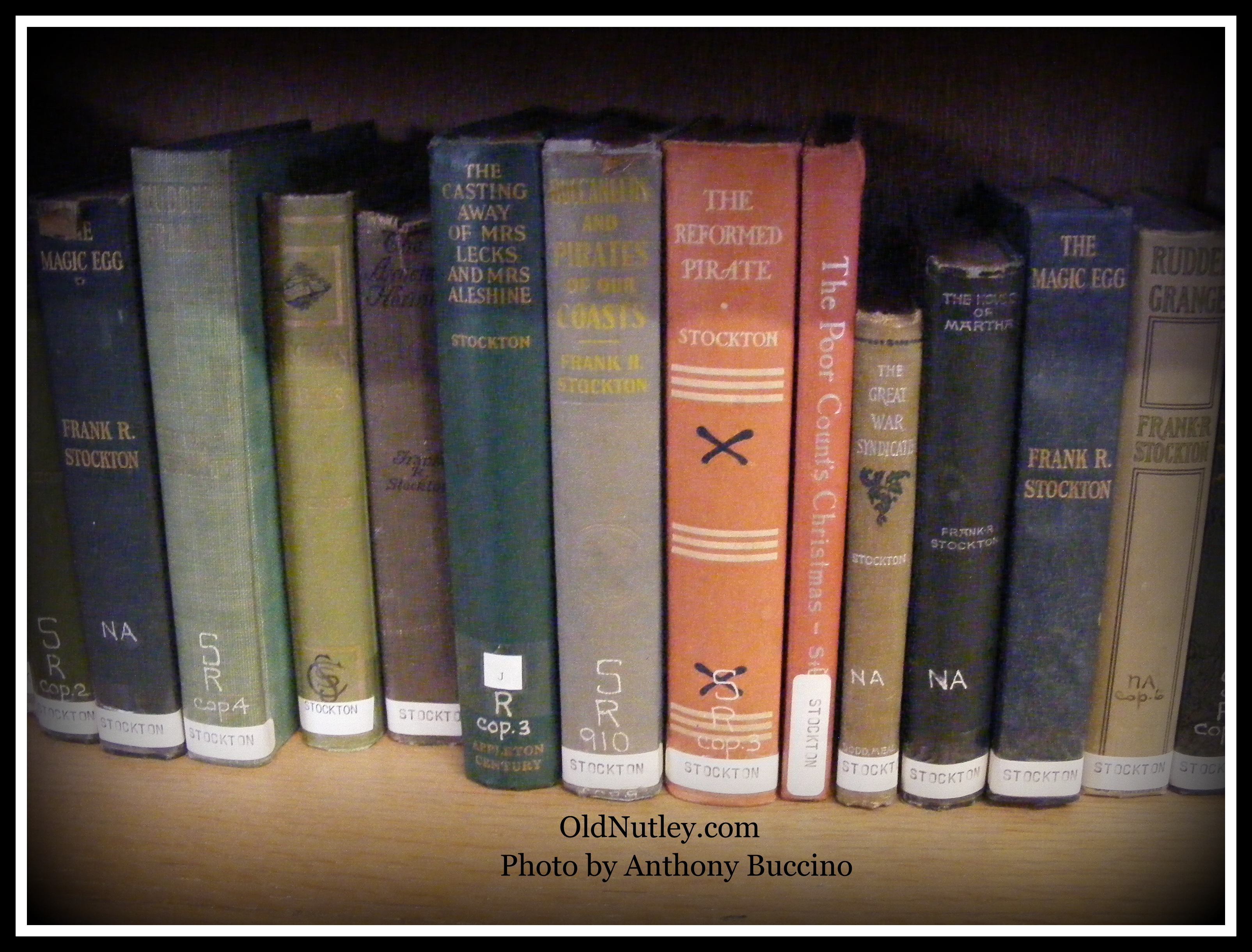 Frank R. Stockton books in Nutley Public Library, Nutley, NJ
---
In the same way he dug a well at his next house at Convent, N.J., which cost him, perhaps $320.23. He wrote a story about it, asking and receiving exactly that amount in payment.
Mr. Boardman recalled how on a certain Sunday morning he was awakened by hearing his name called. Looking out he saw Mr. Stockton crossing the street from his home carrying under his arm a black hen.
He proceeded to tell Mr. Boardman how they had broken the spare room washbowl and not caring to spend money for a new one, he offered this guaranteed setting-hen for a washbowl. A long dickering and discussion of terms followed resulting eventually in the transfer of the articles. Euphemia's elaborate chicken-raising may be remembered.
To the account in "Rudder Grange," it should be added that the Stocktons named their chickens after writers, and still called them by their names when they reached the table.
Later, Stockton lived at Convent and at Madison, N.J., where he could have a more complete country life.
A few years before his death he became the possessor of a beautiful estate in West Virginia, Claymont. The land had been owned and the house designed by Washington, and for that reason it was twice spared from destruction in the Civil War.
Stockton died in 1902 in the full maturity of his powers, with the popularity of his works and personality at its height.
"There was no bitterness in his humor; he was neither a satirist nor a preacher nor a teacher." His writings had absolutely no motive but to beguile wearied hearts and brains away for a little into summer lands of unreality. There everything speaks of simplicity, sweetness and humor, and every perplexity has a happy ending.
Mrs. Stockton, the bright Euphemia, died in November, 1906, at her home in Washington. (sic)
The principal works of Stockton are Rudder Grange, The Rudder Granges Abroad, The Lady or the Tiger, The Late Mrs. Null, The Casting Away of Mrs. Lecks and Mrs. Aleshine, The Dusantes, The Hundredth Man, Personally Conducted, The Merry Changer, The Squirrel Inn, The Watchman's Wife, Pomona's Travels.
Source: History of Nutley by Elizabeth Stow Brown, The Woman's Public School Auxiliary, 1907
---
The Lady or the Tiger and Other Stories
Stockton Place, Nutley, N.J.
News and Historical Archives, Nutley, New Jersey