There were three shows a day, a matinee from three to five, 25 cents for adults, 15 cents for children under 12. Two evening shows from seven to eleven, 40 cents and 25 cents, and a Saturday matinee. Blue laws prevented Sunday shows
---
There is only one building in town that incites so many memories for locals. Their first date, time with family and friends, concession food, favorite action star, birthday parties, bare skin on the screen, and a giant color picture. The Franklin Theatre was a building that shall live in Nutley lore forever. Tenacious research by Town Historian John Demmer has provided us with more information than we can cover in one article. Social media and interviews have provided many firsthand accounts of Nutley's theatre experience. Let's start exploring the creation of this fabulous movie house.

The theatre was constructed on J. Howes's empty land at 510 Franklin Ave. that also had access from Dodd St. in the rear. Developers Tompkins and Collict hired manager and treasurer Maurice Broskie and Hamilton Diston (Jim) Cherry who came from Philadelphia to oversee construction. Architect William Friedberg designed the theatre that was constructed by either Economy Construction Company or Criterion Construction. The cost of two hundred thousand dollars would be recouped in the anticipated one thousand dollars a week in receipts.
No costs would be spared to make this 1,400 seat theatre a showplace. One hundred and sixty tons of plaster was used to form the walls and ornate decorations. Plaster was durable and also added a high level of fireproofing to the structure, a selling point after several theatre tragedies. Dominic Walsh, a former Nutleyite, was the lead plasterer and skilled artist.
Specialized frames were constructed to display the show cards and posters.
Double plate glass doors led to the marble-lined walls of the carpeted lobby. A fireplace and chairs in the lobby made this a cozy meeting place before and after movies. The color scheme was old rose and gold. The lobby ceiling was an India tint brown with a large center medallion highlighting the ornate chandelier. A staircase led patrons to the stadium type balcony seats.
The main theatre had upholstered chairs that complemented the fine velour stage curtains and organ grills. A modern ventilation system ensured patrons were comfortable year-round. Battery-powered emergency lighting completed the safety amenities. Double-sized exit doors were on both sides of the main room and supplemented by rear egress from the stage.
A proscenium arch separated the stage from the seats and, along with stage curtains, made a spectacular impression to moviegoers. Small stage shows were an ancillary part of the primary use as a movie theatre. A large, ornate, green back lit, inverted dome was the main ceiling feature, with wall sconces and floor lighting completing the lighting effects. A Symphony Orchestral Organ provided incredible music.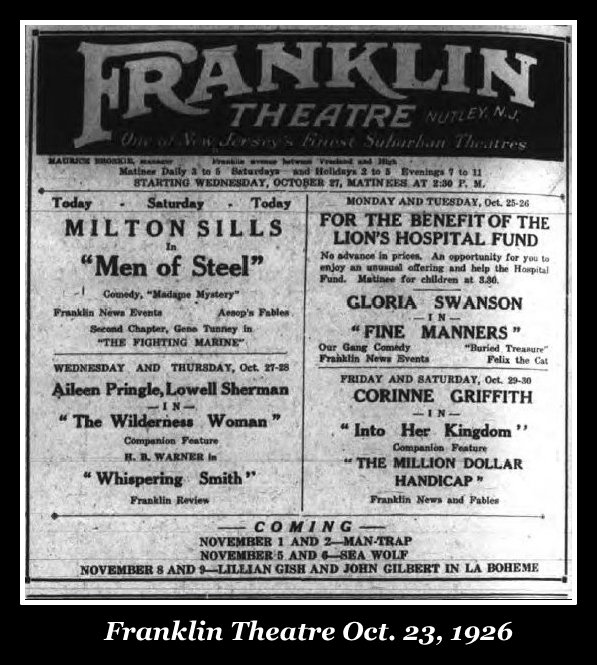 There were three shows a day, a matinee from three to five, 25 cents for adults, 15 cents for children under twelve. Two evening shows from seven to eleven, 40 cents and 25 cents, and a Saturday matinee. Blue laws prevented Sunday shows until Jim Cherry won out over objections from Gregory Bergin Esq. Interestingly, their grandchildren Jack Farr and Susan Piro-Farr married years later. Ample parking and access from Broad Line trolleys made this New Jersey's finest suburban theatre. Next time we will explore opening day September 8, 1926, for The Franklin and the many memorable years that followed.
Construction of the Franklin Theatre was completed in 1926 and it was magnificent. Opening night, Wednesday, September 8, 1926, was a memorable celebration for the sold-out crowd. The Woman's Club of Nutley had full control of the night and chose Henry M. Libby as the Master of Ceremonies. The Boy Scouts stood at attention in front of a stars and stripes tableau as the crowd sang a patriotic song to kick off the eight o'clock show.
Commissioner G. R. B. Symonds and superintendent of schools, Paul R. Radcliffe, spoke about the societal importance of motion pictures. The Reverend Robert E. Falconer was detained elsewhere so his prepared speech was read aloud. He admired movies, but felt some were questionable and proceeded to list them all. Chuckles from the crowd followed as they realized one of the movies was scheduled at the Franklin.
Organist, Griswold H. Congreve played the overture. Sixteen Girl Scouts performed folk dances, followed by a violinist and a trio of vocalists. Lastly, a tenor performed with a piano accompaniment. A Pathe newsreel started the film portion and was followed by a novelty reel and an Our Gang comedy short. The feature film was a silent, Cinderella-themed Ella Cinders, starring Colleen Moore, an extremely popular actress. A gathering in the lobby followed where people raved about the inaugural performance and future shows.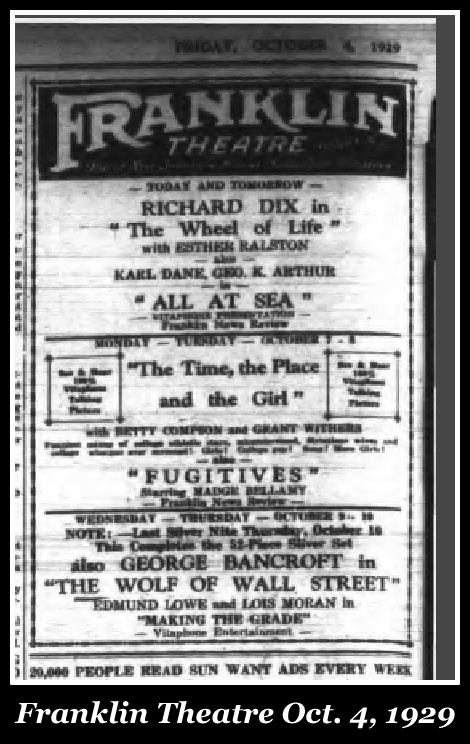 Thursday and Friday night was a double feature: Lon Chaney in The Road to Mandalay and Bebe Daniels in The Palm Beach Girl. A comedy short was also shown. Quite a bargain for those eight hundred people at forty cents. Saturday's double feature included Irene Rich in Silken Shackles and Rin-Tin-Tin in The Night Cry. An Aesop Fable, comedy short, and newsreel rounded out the show. Management ensured that the latest movies and biggest stars were on the marquee to entice crowds.
The developers, with an eye toward investment return, also included two store fronts and second floor office suites. These would prove to be essential for cash flow during the Depression years. Lawyers, insurance agents, dance instructors, marketers, and many other businesses thrived in this space. The store fronts included convenience stores, cafés, jewelry stores, as well as a party shop, book store, and dance studios.
Nutleyites recount stories of Italian movie night, Santa Claus, free candy, dish-set promotions, stage shows, police and fire benefit shows, school trips, and block-long lines for the Saturday matinees.
John Saar and his two sisters were given twenty-five cents to attend one such matinee in 1954. Upon returning home, they met their new baby brother, Daniel.
Several moviegoers recall the theatre being referred to as the 'Itch.' This could be reference to an entomology issue such as lice, the chair upholstery, or maybe Marilyn Monroe's movie, The Seven Year Itch.
Controversy over various films was always a challenge for theatre owners, moviegoers, and the township. One movie in 1970, Allan Funt's What Do You Say to a Naked Lady?, stirred plenty of ire among township regulators with its 'X' rating. Nutley demanded that the theatre remain family-oriented and never show 'adults only' movies again.
The Final 30 Years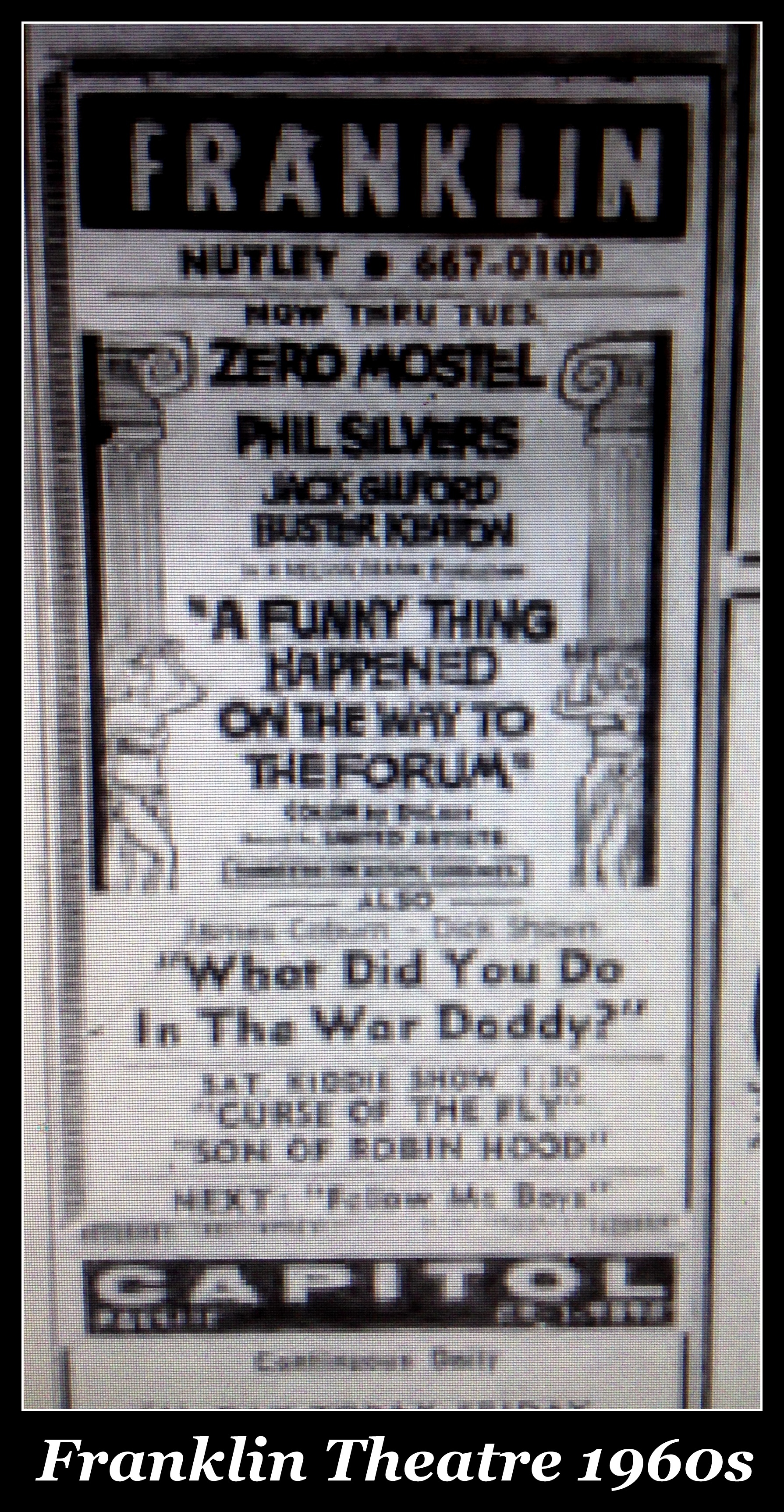 The final thirty years of the Franklin were a mixture of highs and lows. Many blockbuster movies attracted families and groups seeking flicks of all genres. Dating couples looked for that dark corner or back row seating. New sound systems and projectors enhanced our movie experiences.
The early seventies saw a closure of the theatre as profits dwindled due to competition from multiplex cinemas and film rental agreements not favoring independent venues. The control of movie houses dates back to the 1940s when film companies bought up many locations to ensure their movies had exclusive showings in high-profit areas.
The Vivian family purchased the building and Pete Vivian reopened the Franklin in 1979, after dividing the auditorium into three theatres. This practice was common for older structures as owners attempted to keep their clientele from visiting large complexes with choices of six or more movies.
To Pete's credit, he kept the main seating and stage area intact during the renovation. The seats were upgraded to a newer style and smoking was prohibited.
Around this time, Bob Lee of the Essex Film Club saw the theatre was reopening. His son, Donald, had movies in his genes and the background to run a projection room. We can credit Donald for keeping the shows going and working with Pete to modernize the projectors and sound systems. The original carbon-arc Simplex projector was still in use into the mid-1980s. This technology gave way to xenon bulb projectors, a safer source of light. The all-too-common breaking of the film was solved with new table servers that fed the film in a smooth loop. Donald loved the movie house, films, and the history of it all. Fortunately for us, he has retained some of the few interior pictures of the building.
As Dave Wilson recalls: recollections for me come from my time as Fire Inspector. One of the benefits was access to private areas in the building. The small basement only had space for utilities and some storage. The first time in the projection room was amazing as I saw how it all worked to create my movie memories. A lightning strike in 1993 necessitated an evacuation and lengthy investigation. Here I was on catwalks above the ceiling dome I had only seen from below. Then onto the roof and behind the parapet walls that created the great façade. Electricians were summoned and the show went on that night as all systems passed inspection.
The final show on November 15, 2000, was the restored version of The Wizard of Oz. A death in the family and nearby competition made the business untenable. The theater sat vacant until 2001 when a contractor purchased the building and quickly proceeded to repurpose it into residential rental units with a parking garage beneath.
---
Postponed from April 2020, the event was held September 2021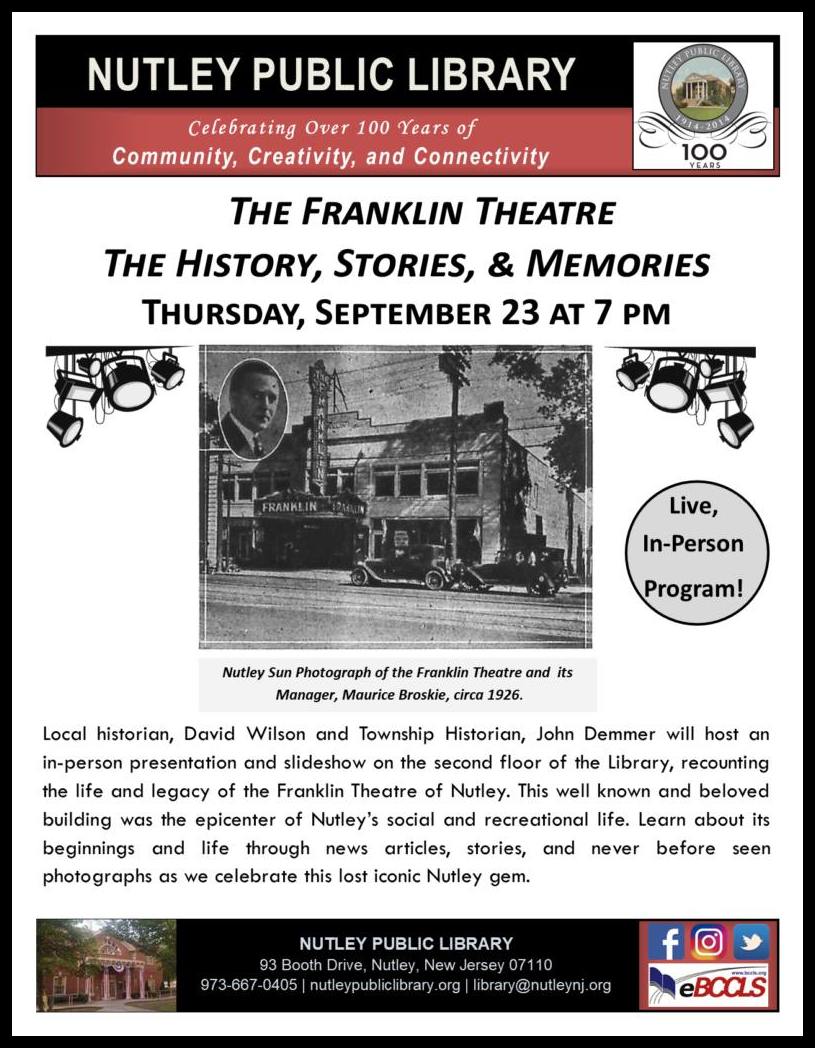 Follow the Nutley Free Public Library for YouTube presentation of event
---
David Wilson is the author of Fire in Our Lives, a book containing stories, experiences, and advice from his forty-year career in public safety. Available at Amazon, Barnes & Noble
Nutley Town Historian John Demmer is the author of Images of America Nutley
Reprinted from Nutley Neighbors, October, November, and December 2019; Best Version Media
A community magazine serving the residents of Nutley, N.J.
Read More: Nutley, New Jersey, News & History Archives