Patrick F. Guthrie moved from New York City to Franklin, New Jersey, when he married his sweetheart. He opened his first store in the 1870s on Passaic Avenue near today's Mudhole, then moved it around the corner to his own building on Highfield Lane.
He originally ran a dry goods store. But when the town's mills began closing, he reinvented himself. Guthrie's reopened as a grocery store and an ice cream parlor, introducing that summer delight to Nutley. If you wanted "iced cream" on a hot summer day, you had no choice—you went to Guthrie's. Out-of-towners traveled miles to try some. Locals, like Annie Oakley, enjoyed it too!
Patrick's son, Edmund, made the ice cream each day in the back of the store. His helper was a seven-foot-tall French nobleman who had been exiled from his native country for participating in a duel and whom Patrick had befriended. While the baroness spent her days painting portraits, the baron made ice cream in the back of Guthrie's.
Patrick also introduced the ice cream soda to Franklin. Some say he invented that sweet treat, but he probably heard about it while visiting Philadelphia, where it had been discovered by accident! When a vendor at a summer fair had run out of ice for his flavored sodas, he added vanilla ice cream in a desperate (and, it turns out, creative) attempt to keep his drinks cold . . . and the ice cream soda was born. Local legend has it that Mark Twain tasted his first ice cream soda at Guthrie's!
Patrick was also fascinated with the telephone from the moment he heard Alexander Graham Bell speak about it at the 1876 Philadelphia World's Fair. He began building his own experimental phones when he returned home and eventually convinced the local telephone company to extend the one line that ran from Newark to Belleville to his store on Highfield Lane.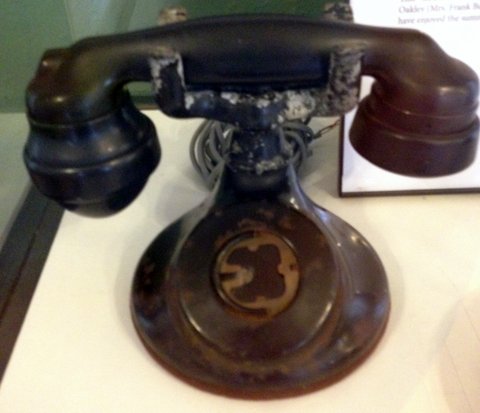 Now how smart was that? Guthrie's was only place around that served ice cream and the only place to make or receive a phone call—in other words, the place to be.
Huge crowds gathered at Guthrie's to discuss politics and to hear the major news events of the day—including the presidential election returns of 1888 (Benjamin Harrison), 1892 (Grover Cleveland), and 1896 (William McKinley)—come in over the town's only phone. No doubt they ordered ice cream while they waited!
Husband, father, inventor, ice-cream maker, and clever entrepreneur, Patrick somehow found time to serve as the fire chief of the Yanticaw Hose and Truck Company, located near his store in today's Town Hall, and to patent a popular chemical fire extinguisher.
---
Reprinted from Nutley Neighbors, June 2017; Best Version Media
A community magazine serving the residents of Nutley, N.J.
---
Read more:
Founded 1945
65 Church Street, Nutley N.J. 07110
973-667-1528
Copyright & Reprint Information
Contact Room Rental, via phone, not email, Call 973-667-1528
Official Web Site
Nutley Historical Society
Follow/Like Us on Facebook
Check-in When You Visit
---
Web site development & maintenance
provided at no cost to Nutley Historical Society, sponsored by:
Links are subject to change
---