Wrestling mania seized Nutley. On May 17, 2017, the Nutley Museum at 65 Church Street hosted "50 Years of Nutley Wrestling," a program that explored Nutley wrestling in its many forms – professional wrestlers from our town, great coaches and student wrestlers from Nutley High School, and much more.
One highlight was a presentation by Sal Scarpa, the brother of the late Luke Scarpa, the most famous professional wrestler who ever called Nutley home. You haven't heard of him, you say? That could be because while he was winning world fame, he adopted a ring name and wrestling persona – Chief Jay Strongbow. He was one of the greats. Bet you've heard of him now. He was born in Philadelphia in 1928, but moved to Nutley with his family when he was a boy.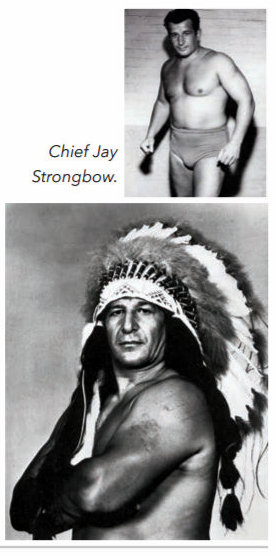 How did a Nutley guy named Luke Scarpa come to wrestle professionally as Chief Jay Strongbow?

It's a fascinating story. In 1947, he signed with the National Wrestling Alliance and launched his career under his own name. He achieved great success in matches in Georgia and Florida.

In 1970, he signed with the World Wide Wrestling Federation (WWWF), where he was advised to adopt the identity of Chief Jay Strongbow.

Why a Native American? Back then, many pro wrestlers adopted ethnic personas. One presented himself as an Arab ("The Iron Sheik"), and another was a Hawaiian who wore a derby and took on a Japanese persona ("Mr. Fuji"). There was even a Greek Adonis kind of guy called "The Golden Greek."

As Chief Jay Strongbow, Scarpa wore a feathered headdress, smeared on war paint, and toted a tomahawk.

During his matches, his fans would whoop for him to go on the "warpath" – a call to action that he was all too glad to answer by doing a war dance, and applying an "Indian Death Lock" hold to an opponent. In case you think that it was all a harmless charade, it wasn't. Scarpa got his leg broken in one match, and he broke the arm of at least one other wrestler.

Late in his career, he took on a tag team partner who had adopted the persona of Jules Strongbow. In 1982, they won the WWWF tag team championship title from

Mr. Fuji and Mr. Saito in a famous match in Madison Square Garden. Chief Jay retired in 1985, but took a job in the WWWF's front office.

Luke Scarpa,

born right here in Nutley on October 4, 1932,

passed away in Georgia on April 3, 2012. He was inducted into the Nutley Hall of Fame in 2013.

"50 Years of Nutley Wrestling" guest speakers included

Sal Scarpa, brother of Joe AKA Chief Jay Strongbow, who brought lots of memorabilia;

Anthony Bowens AKA "Vigilante" who wrestled his first match on April 13, 2013, in his hometown of Nutley and who later went on to win his first title on April 12, 2014; Nutley wrestling coach Mike DiPiano, and former Nutley coach Carmen LoRe who resides in Nutley and was a member of the original "club" wrestling team at Nutley High School (1961) the first varsity wrestling team (1962) and head coach for the NHS wrestling team (1994 to 2007) and won more than 100 matches.
---
Corrected June 2017
Reprinted from Nutley Neighbors, May 2017; Best Version Media
A community magazine serving the residents of Nutley, N.J.
---
Read more: