Campaign launched to collect money for war memorial
(Sept. 5, 1947) Letters signed by Arthur L. Manchee, chairman of the World War II Memorial committee are being sent out today to all residents of Nutley requesting contributions to the fund required to establish the Memorial Green adopted by the committee last June and subsequently unanimously approved by the town commission as the town's tribute to its war dead.
The families of the 81 heroes to whom the memorial will be dedicated have not been included in this appeal, in recognition of their sacrifice.
The Memorial Green as previously announced is to be established on the triangular plot north of the Free Public Library, where the letter states a bank of white dogwood trees and flowering shrubs will serve as the background of a rostrum.
In the center of a circle, at the inner end of the mall, the names of the 81 heroes will be inscribed with a dedicatory messages, on bronze plaques around the base of a lofty flagpole topped by a eternally-lighted, symbolic gold star.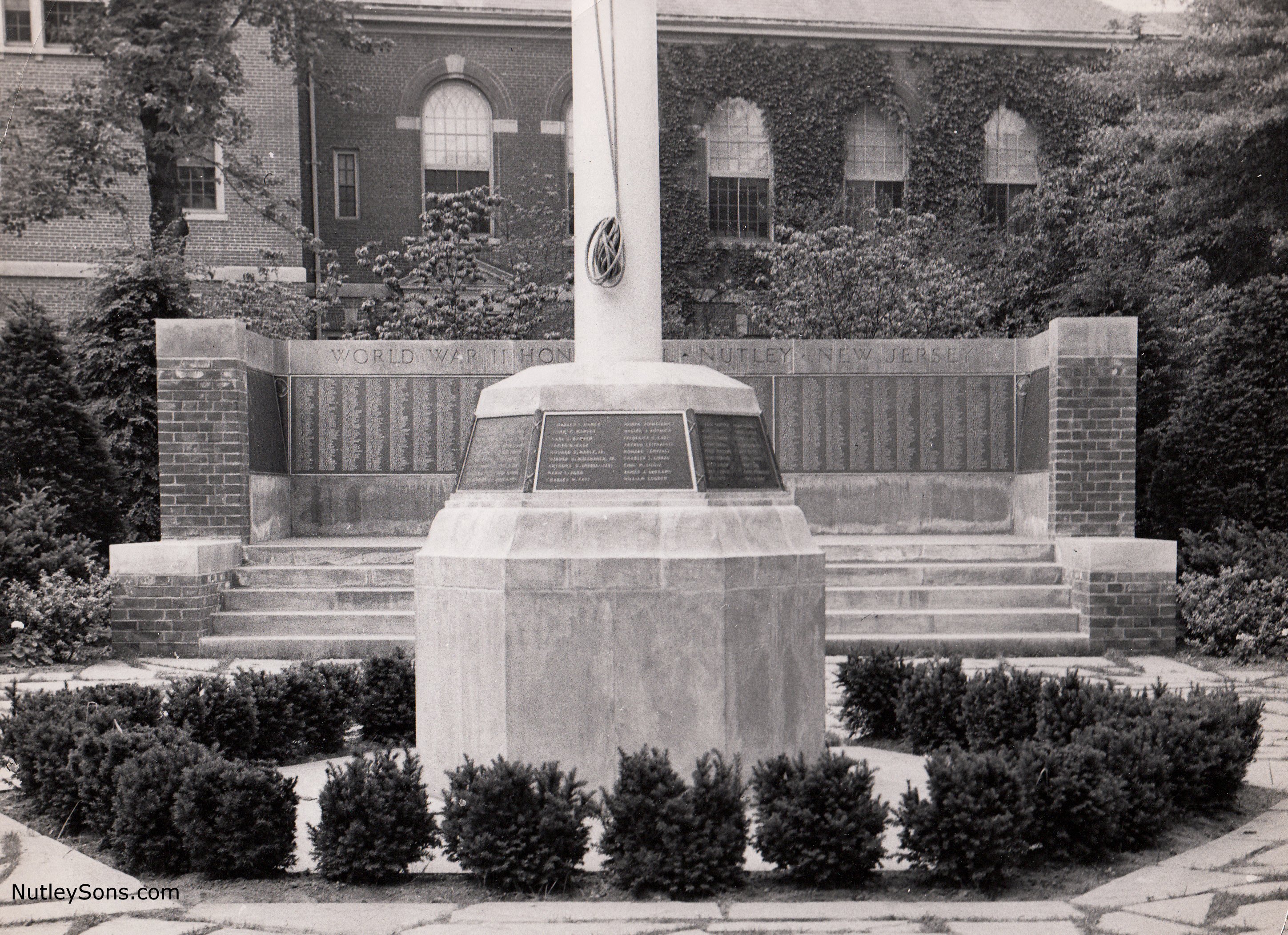 ---
American Legion Post 70 Memorial
(1948) In a brief and simple ceremony, Nutley Post 70 of the American Legion presented a picture memorial to the town honoring its 83 World War II dead.
The memorial, which contains photographs of 80 of the servicemen, was unveiled in the public library by Mrs. Mary Hanley of Race Street, former Army nurse and widow of 1st Lt. John M. Hanley, who was killed in action in World War II. She now is director of the home nursing service of the Jersey City Red Cross Chapter.
An estimated audience of 75 persons, including a number of Gold Star Mothers and relatives of the honored servicemen, heard Post Commander Earl J. Crawford formally present the memorial to Mayor Jernick and through him to the town of Nutley.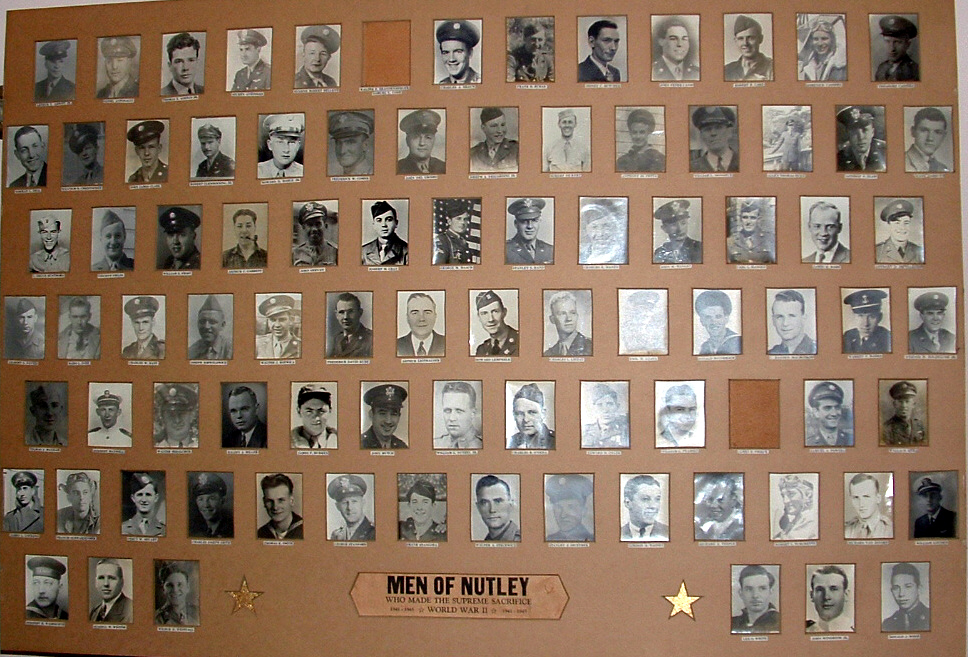 Charles S. Hammond, Post historian, conducted the ceremony.
Jernick said: "Each of us here gathered knows only too well the horrors of war, its cruelties and tragedies, and so from that knowledge we should be prepared to work so that war may be forever be outlawed. War and civilization are antonyms – we can't have both. But mere lip service is not enough. We must support that just hatred of war by concerted efforts to make another war unnecessary and impossible."
He concluded: "We can resolve here today that we will do everything we can for those who suffered so terribly during the most recent war, that we will provide aid for those still suffering, and that we will turn our efforts toward whatever cause will promote peace."
Hammond, explaining the memorial, said that it was a result of extensive research by the Post, and added that while pictures of three war dead had not been obtainable, the Post would continue to search for them.
Comparing the two World Wars, Hammond said that Nutley lost 83 servicemen out of a total of 2,900 in the recent war, while 17 men out of 217 represented lost their lives in WWI.
---
Armistice Day 83 Years Later
Nutley Re-Dedicates World War II Monument to Veterans
NJHometown News, Nov. 11, 2000 -- Mayor Peter Scarpelli rededicated Nutley's World War Two Monument this afternoon in a highly emotional Veterans' Day program witnessed by nearly 300 veterans and grateful citizens.
"Nearly 3,000 young people from our town went to war," Mayor Peter Scarpelli reminded.
"That meant that every 7th person from Nutley joined the fight. The danger to our country was real and it was serious," Scarpelli recalled.
"This memorial rightfully will stand for generations, reminding us that freedom isn't free," the mayor continued. He asked those attending to "come back here again and again and pause for a moment to reflect upon the sacrifices these veterans made for us
"It is my honor to rededicate Nutley's World War Two Monument to the brave men and women who fought to make this world safe for democracy."
The hour-long program presided over by retired Navy Captain Frank Garruto included remarks from three well known veterans – Assemblyman John Kelly, Public Safety Director Carmen Orechio, and Police Sergeant Steve Rogers, a lieutenant in the Navy Reserve. Commanders of the Nutley Veterans Council, AMVETS, VFW, and American Legion Posts read the names of the 88 Nutley residents who lost their lives in World War 11. As the names were read, a bell tolled over the sound of a snare drum. And when the reading of the names ended, the Nutley High School choir responded, first with the hymn "Eternal Father" and then with the upbeat "God Bless the USA."
'The Greatest Generation'
Rogers called those who served in World War II "the greatest generation that ever walked the face of the earth. Hundreds and hundreds from our town committed their lives, their homes and their dreams to a nation which at the time of their service was faced by a brutal and vicious enemy. These men and women left their lives, their hopes and dreams and went to a faraway land in a faraway place that they never heard of and had never seen in their youth.
"Today in this new century, we live under the Stars and Stripes because they lived under the bombs and the bullets," Rogers said.
Commissioner Orechio noted the appropriateness of the dedication's physical setting, surrounded by a church, the town hall, the public safety building and the municipal court – "all things representative of the freedoms we fought to preserve." He asked for a renewed spirit to recall the sacrifices of those who fought in America's wars. "Unfortunately, too many people view these holidays as an opportunity for a three-day weekend rather than a commemoration of the great sacrifices so many men and women have made in war to preserve our freedoms."
Nutley's Wall of Heroes
Garruto called attention to "one of the most important parts of this World War II monument and that is the wall of heroes behind me which has been engraved with the names of the nearly 2,000 young men and women from Nutley who served in that great conflict. When you read those names, it's easy to recognize that so many of those who wore America's uniform came home to build today's community we call Nutley – one of the greatest communities in America today."
Also participating were VFW Post Color Guard under Capt. Andrew Vyniski, Nutley Girl Scouts under unit manager Mrs. Cheryl Josi, Boy Scout Troop 147 under Scoutmaster Tony Dalfino, Boy Scout Tro0p 142 under Scoutmaster Mark Pugliese.
Sam Vitale, sang the National Anthem. The Rev. Dr. Robert C. Cole, pastor of the First Baptist Church of Nutley, offered the invocation.
Others speakers included Leonard A. Peduto, chairman of the World War II Memorial Fund,, and the Rev. Msgr. Peter J. Zaccardo, pastor of Holy Family Church, who offered the Benediction.
The names of the 88 young men who were killed in World War II were read by Nelson W. Rummel, commander of AMVETS Post 30, Richard McClintick, commander of American Legion Post 70, Dennis M. Buesing, Commander VFW Stewart E. Edgar Post 493, and James J. Adams, president of the Nutley Veterans Council.
Among those seated on the dais were Commissioners Garry Furnari, Joanne Cocchiola and Mauro G. Tucci. Also introduced were those serving with Peduto on the World War II Memorial Committee: Dan Marese, co-chair, Nelson W. Rummel, Andy Andriola, Anthony Capriglione, retiried Commissioner Frank A. Cocchiola, Ralph DeLibro, Frank Lemma, James Orsini and Tom Pandolfi.
- Courtesy Phil White, Nutley Hometown
---
In September 1947. The Board of Trustees of the Library made available to the Town the land upon which the World War II Memorial was erected.
- NUTLEY Yesterday-Today
---
Sources:
Nutley Hometown, Phil White
Nutley Sons Honor Roll - Nutley Sons Killed in World War Two
The Nutley Sun