Town Hall is the hardest-working building around, serving three towns for more than a hundred seventy-five years in nearly a dozen diverse roles—and donning three distinct hats in the process.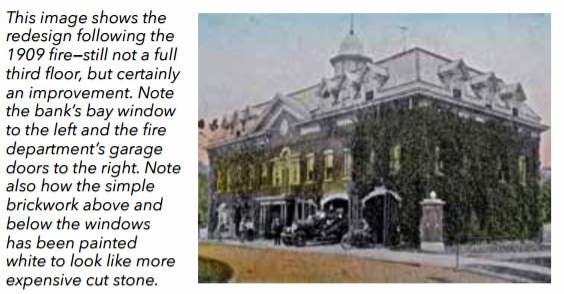 The building began its life as a textile mill, part of the Duncan Essex Mills, which produced wool goods. It was built around 1840.
The mill opened in Belleville, a community created just a few years earlier when it seceded from Bloomfield. About thirty years later it was in Franklin—due to that community's secession from Belleville in 1874. And about thirty years after that, in 1902, a vote was taken and Franklin became Nutley.
Inside the simple brick structure were twenty-eight steam-powered looms. More than a hundred people worked there during its heyday, producing wool for Civil War blankets and uniforms.
When tariffs were lifted from imported wool products in the 1880s, many domestic mills, including Franklin's Essex Mills, closed. In 1890, forward-thinking members of Nutley's Board of Education purchased the twelve-acre mill site.
All but one of the mill buildings was demolished, and the survivor was promptly put into service. In 1890, the second floor became Nutley's first official high school. Previously, classes for all ages were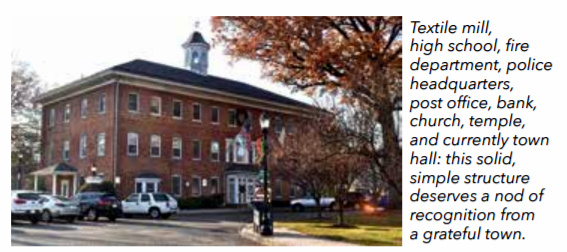 held in two schoolhouses that served the east and west sides of town. In 1894, when the new high school opened, classes at the mill came to an end. But this building's story had only just begun.
That same year, Franklin's first fire department (Yantacaw Engine Company No. 1) was formed, and made the mill its home. In 1906, the Bank of Nutley was incorporated. In the four years it took the bank to acquire its own building, business was conducted in the old mill.
Nutley's early postal history is long and complicated, with offices often located in someone's home or general store. But from 1907 to 1915, Nutley's main post office was located in . . . you guessed it, the mill building.
The first roof-line change came after a 1909 fire. The upper half-floor was replaced with a then-fashionable mansard-style roof—and a nice cupola for good measure.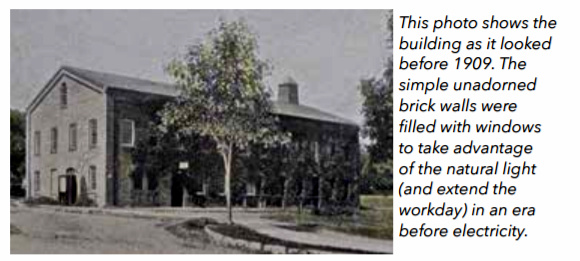 One October night in 1910, sixteen homes in Nutley were burgled. In response, the Nutley Police Department was formed and set itself up just down the hall from the Yantacaw Engine Company.
And while it seems incredible by today's standards, this public building served as a house of worship for Nutley's First Baptist Church (1905–1907), Holy Trinity Church (1924), and Temple B'Nai Iasrael (1928) as each congregation sought a more permanent home.
When the town acquired the building from the Board of Education in 1948, it was time to remodel. The out-of-fashion, space-limiting mansard roof was replaced by an extension of the building's brick walls, mimicking the simpler style of the original mill while adding a full third floor. The cupola was left untouched.
Take a look the next time you're in the area and notice the subtle change in brickwork above the second floor. Not bad considering a century separates the work. What other traces of the building's past can you find?
---
Reprinted from Nutley Neighbors, January 2017; Best Version Media
A community magazine serving the residents of Nutley, N.J.
---
Read more: