Of the many amazing stories about Nutley's past, the most incredible of all could be the history of "Camp Nutley," an anti-aircraft artillery base that was in full operation in Nutley between 1952 and 1957. The camp, officially called U.S. Army 98th AAA Gun Battalion, Battery A, was home to at least 100 soldiers at all times. It occupied four acres on Park Street, across from what is now the Nutley Parks and Recreation building.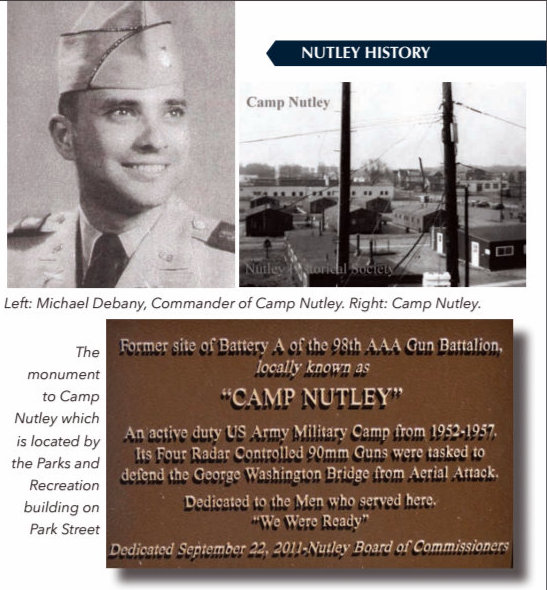 Camp Nutley was a fully functioning Army base. There were barracks, a mess hall, back-up electrical generators, a motor pool and – most important of all - four big 90 millimeter M2 anti-aircraft guns that were capable of firing 20 rounds per minute. According to Michael W. Debany, a great friend of Nutley who was Commander in Chief of the base, shells could be fired a distance of 17 miles.
What Were those Big Guns Aiming At?
Why was the base here? What important target was located within 17 miles of our town? If you guessed New York City, you are on the right track. But the purpose of the base was to shoot down Soviet bombers if they few into our area to destroy the George Washington Bridge. Any Soviet planes could be shot down by shells fired from Nutley and from several other artillery installations located near the Hudson River.
Picking Soviet planes out of the sky at a distance of 17 miles would not have been easy. According to Michael Debany, his soldiers engaged in daily practice drills to keep their skills sharp. The base's Radar Platoon monitored air traffic 24 hours a day. Top Army brass made regular visits to conduct inspections and twice a year, the Nutley guns were trucked to Montauk on the tip of Long Island, where our artillerymen practiced blowing floating targets out of the water.
As Commander Debany wrote in a memoir that he prepared for the Nutley Historical Society, "We were designated by the Army as a 'combat ready unit.' I can tell you from being there . . . we were ready!"
---
Reprinted from Nutley Neighbors, April 2017; Best Version Media
A community magazine serving the residents of Nutley, N.J.
---
READ MORE
Camp Nutley or Camp Avondale Memories by Nick Homyak
Nutley Sun: Soldiers share experiences of 1950s' Camp Nutley
Nutley Sun: Camp Nutley Remembered, 9.27.2011
Founded 1945
65 Church Street, Nutley N.J. 07110
973-667-1528
Copyright & Reprint Information
Contact Room Rental, via phone, not email, Call 973-667-1528
Official Web Site
Nutley Historical Society
Follow/Like Us on Facebook
Check-in When You Visit
---
---
Web site development & maintenance provided at no cost to Nutley Historical Society
Sponsored by:
Links are subject to change
---
Read more Nutley History:
---